The CBCGPChartInterLineColoringEffect class implements a "chart effect", which fills a zone between two line series or between a line series and some horizontal line (origin) by a color.
The following picture illustrates two effect objects (the blue and red zones).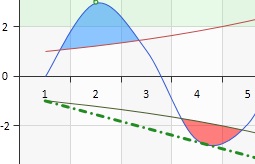 The first effect is created between blue an red series; the second effect is created between green and blue series.
To add an effect just construct a CBCGPChartInterLineColoringEffect object and call CBCGPChartVisualObject::AddChartEffect.
It is possible to fill intersection only when the first series is on top of the second series (m_bTopOnly is TRUE - the default, see the picture above), or also when the second series on top (m_bTopOnly is FALSE):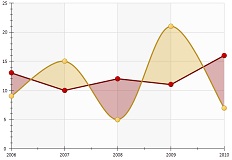 The following code creates interline coloring effect illustrated on the first picture:
m_pEffect_0_1->m_brTopBrush.SetColor(CBCGPColor::DodgerBlue, 0.5);
m_pEffect_2_0->m_brTopBrush.SetColor(CBCGPColor::Red, 0.5);