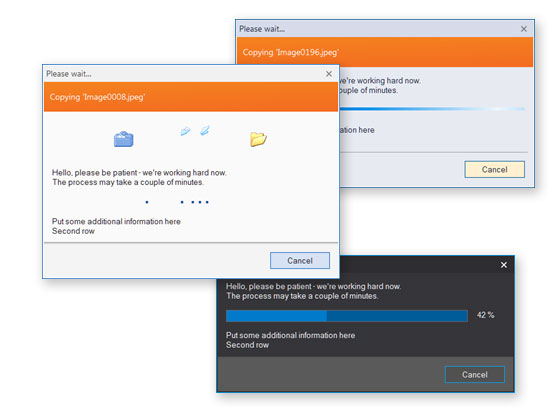 The CBCGPProgressDlg class implements a modeless dialog that allows to display a progress of a lengthy operation.
This dialog offers the following features:
Progress indicator
Progress percentage
Owner-draw header
Animation
Theme support
To display a progress dialog you need to perform the following steps:
Construct a dialog object: m_pProgressDlg = new CMyProgressDlg(&m_Header);
Enable theme (optionally): m_pProgressDlg->EnableVisualManagerStyle();
Construct and fill the CBCGPProgressDlgParams structure.
Create the dialog: m_pProgressDlg->Create(params, this);
Important: to avoid the dialog (as well as your application) "freezing" during a long-time process, we strongly recommend to make any time-consuming processes (such as data loading) in the working thread and pass the execution percentage the progress dialog using some user-defined message.
Take a look at the ProgressDialogDemo sample for more information.