The CBCGTask class is a helper class used to describe tasks for task pane control (CBCGPTasksPane). The task object represents an item in the task group (CBCGPTasksGroup). Each task may have an associated command that should be executed when the user clicks on the task and icon displayed from the left side of the task name.
The following picture shows a group consisted of three tasks: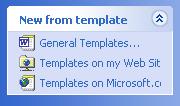 If a task hasn't been associated with a command ID it's treated as a simple label.
Inherits CBCGPBaseAccessibleObject.