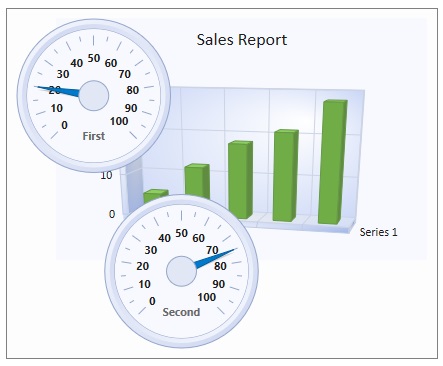 The CBCGPVisualContainer class implements functionality of the visual container.
The visual container is a windowless object that hosts CBCGPBaseVisualObject - derived objects. You can initialize this object either using CBCGPVisualContainerCtrl window (simplest way) or directly:
You can add CBCGPBaseVisualObject - derived objects using Add() method or prepare the container context in our WYSWYG Visual Designer application and call LoadFromXML() or LoadFromFile() methods to load the container objects saved by Designer.
Please take a look at the following examples to study how to use the Visual Container:
BCGPChartExample: CChartAdvancedLegendView, CChartContainerView and CChartThumbnailsView classes.
BCGPDigitalDashboard: each view hosts CBCGPVisualContainer - derived class
BCGPGaugesDemo: CDesignerDataView demonstrates how to load and use container prepared by Visual Designer application; other classes such as CBCGPColorIndicatorView, CBCGPImageIndicatorView, CBCGPNumericIndicatorView or CBCGPTextIndicatorView show how to create the container programmatically.