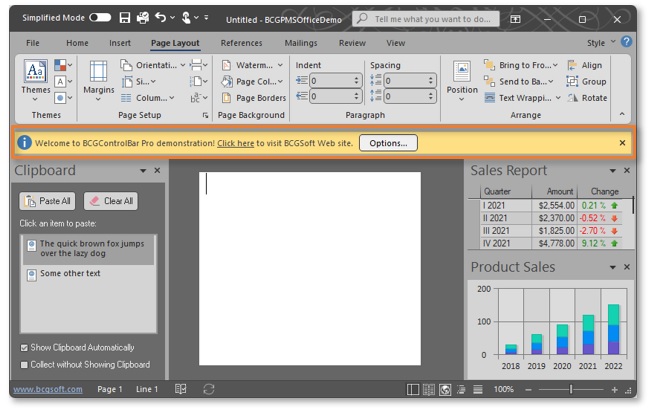 A CBCGPCaptionBar object is a control bar with a row of "elements": button, text label and image. It can contain only one element of each type in one time. Each element can be aligned to the left or right edges of the control or to the center. A caption bar has top and bottom borders with flat or 3D style.
To create a caption bar, follow these steps:
When you set the button element, you assign a command ID to the button. The caption bar routes WM_COMMAND message with this ID to the parent frame when the user clicks the button.
In addition, the caption bar can work in the "message bar mode". This style was introduced in Microsoft Office 2007. In this mode caption bar displays a bitmap at the left side, message text next to the image and a button (which usually displays some option dialog) next to the text. It's possible to set a tooltip for the image.
To enable the "message bar mode", just call Create() with the fourth parameter bIsMessageBarMode set to TRUE