The CBCGPEditListBox class extends the functionality of a Windows list box by providing support for editing items in-place and ability to define a list of buttons to control edit operations. An editable list box displays a list of items, the user can view, select and edit them in-place or use buttons on the top of the list box to create a new items, delete the existing items, rename items, or move a single item up and down.
The following is a picture of the editable list box control. You can notice, that Item2 is selected for editing: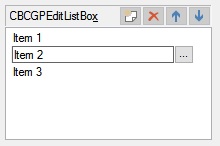 To use an editable list box in a dialog template, declare a CBCGPEditListBox variable in your dialog box class, then use DDX_Control in your dialog box class's DoDataExchange function to connect the member variable to the control. In the resource editor you should create a static control, because CBCGPEditLisBox class inherits from CStatic.
By default, the editable list box is created without buttons. You have to enable them by the CBCGPEditListBase::SetStandardButtons function.
See also