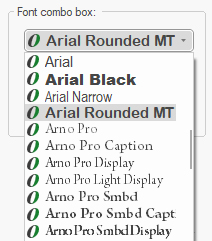 The CBCGPFontComboBox class provides the functionality that allows to create combo box controls containing a list of fonts.
There is a special version of this class CBCGPToolbarFontCombo that can be used with toolbars.
To use CBCGPToolbarFontCombo in application just embed it into a dialog then call CBCGPFontComboBox::Setup when processing WM_INITDIALOG.
To retrieve a selected font call CBCGPFontComboBox::GetSelFont.
See also