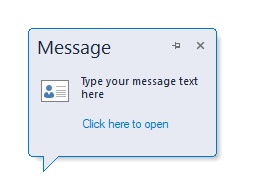 The CBCGPPopupWindow class implements the functionality of a modeless dialog which appears on the screen to inform the user about some event.
The dialog may be transparent, may appear with some animation effects and may disappear with a delay or may be dismissed by click on a close button.
It's possible to show the "default" dialog containing an icon, a message text (label) and a link. You can handle clicks on the link and perform some actions upon the click. Another option is to create the dialog from application resources and put any controls you want.
You should create a popup window in two steps. First, call the constructor CBCGPPopupWindow to construct the CBCGPPopupWindow object, then call the CBCGPPopupWindow::Create member function to create the window and attach it to the CBCGPPopupWindow object.
The CBCGPPopupWindow creates a special child dialog that covers the entire client area of the popup window and owns all controls the framework or developer place on it.
Perform the following steps to display a custom dialog on the popup window:
Derive a class from CBCGPPopupDlg
Create a dialog template in the resources (must be a child dialog)
Call CBCGPPopupWindow::Create with resource ID of the dialog template and pointer to runtime class information of the derived class.
The custom dialog may handle all notifications coming from the hosted controls.
Use the following functions to control the popup window behavior:
The following code illustrates usage of CBCGPPopupWindow in application:
params.m_strText = _T("You have 3 new messages");
params.m_strURL = _T("Click here to open");
params.m_nURLCmdID = ID_OPEN_MSG;
pWndPopup->
Create
(
this
, params);