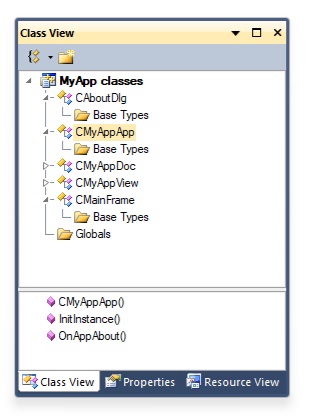 The CBCGPTabWnd class provides the functionality that allows to create tabbed widgets. This functionality is analogous to the Microsoft Windows common tab control, but the CBCGPTabWnd class has several extensions. The following is the list of additional features implemented by CBCGPTabWnd class:
Various styles: 3D, flat, flat with shared horizontal scroll bar
Alignment: top and bottom
Ability to show text and/or images
Ability to change an active tab color
Adjustable tab's border size
Detachable tabs
Note. Although it is possible to create a CBCGPTabWnd object in a dialog box, it was aimed for using with docking control bars (see CBCGPDockingControlBar) in Microsoft Excel- and Microsoft Visual Studio- like applications. To include a tab control in your application along with docking (resizable) control bar, follow these steps:
See CBCGPTabbedControlBar documentation for example how to create tabbed window as a docking control bar.
If you want to use CBCGPTabWnd as a non-docking control, just create an instance of CBCGPTabWnd object and call CBCGPTabWnd::Create.
See also

CBCGPDockingControlBar, CBCGPBaseTabWnd