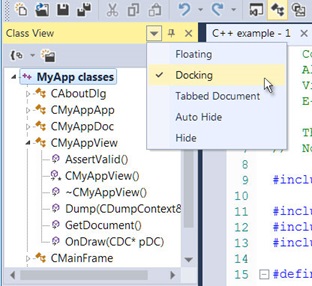 The CBCGPDockingControlBar class implements a control bar with the following functionality:
dock to a main frame window
switch to autohide mode
attach to a tabbed window
float in a mini frame
dock to another control bar that is floating in a mini frame window
free resizing
load/save state from/to the Windows registry
can be created with or without caption. The caption may have a text and may be filled with gradient color
can be dragged with or without (using drag rectangle) context
To use a docking control bar in your application you must derive your control bar class from the CBCGPDockingControlBar class. It's advisable to embed the derived object into the main frame window object (or to a window object that will control the instance of your bar). Call the CBCGPDockingControlBar::Create or CBCGPDockingControlBar::CreateEx member function when you process WM_CREATE message in the main frame window. Setup the control bar object by calling CBCGPDockingControlBar::EnableDocking, CBCGPDockingControlBar::DockControlBar, CBCGPDockingControlBar::AttachToTabWnd.