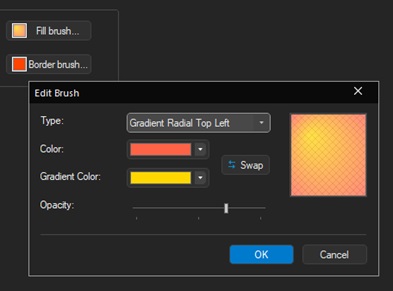 Brush button is derived from the regular pushbutton control and displays a brush preview on the left. When user clicks this button, modal brush edit dialog appears.
 
m_Options
The brush editing options.
 
 
m_bDrawFocus
If nonzero, a focus rectangle is drawn around the button's text and image when the button receives focus
 
 
m_bHighlightChecked
Specifies whether to highlight buttons with the style BS_CHECKBOX or not when the mouse is hovered over.
 
 
m_bOnGlass
Specifies whether a control is located on the "glass" (DWM) area of the parent window.
 
 
m_bRighImage
If nonzero, the button's image is shown from the right side
 
 
m_bTopImage
If nonzero, the button's image is shown on top
 
 
m_bTransparent
If non-zero, the button is transparent.
 
 
m_bVisualManagerStyle
Specifies whether a control has a Visual Manager style look.
 
 
m_nAlignStyle
Specifies alignment of the button's text label.
 
 
m_nFlatStyle
Specifies the button's flat style.