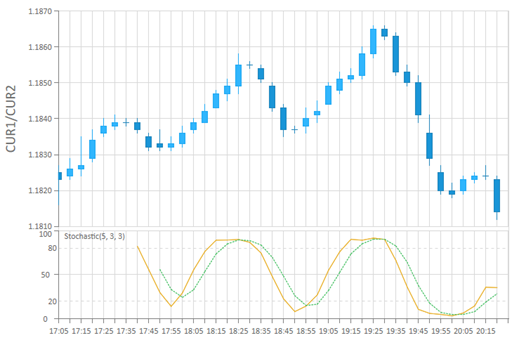 A Stochastic indicator is represented by two lines. The main line is called %K, the second - %D, which is a moving average (MA) of %K. The formula itself implements %K. To display %D just create CBCGPChartMAFormula with desired MA type using the output series of %K as an input series.
The following parameters should be defined for Stochastic:
Period of KSlowing of %K, which defines the internal smoothing of %K line.
%D - period of MA applied to %K and a type (simple, exponential, snooted, linear weighted) of MA.
The following example demonstrates how to set up a Stochastic Oscillator with periods 5, 3, 3 and display it on a custom axis (making up an indicator area):
If you provide a main stock series as an input series, the formula implementation will automatically take high, low and close child series to compute the output series.