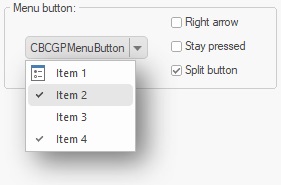 The CBCGPMenuButton class provides the functionality of button that shows popup menu when clicked and redirects a selected command to the parent.
The CBCGPMenuButton object inherits the abilities of the CBCGPButton objects and in addition has a special "pressed" state that can be controlled by the m_bStayPressed member variable. The popup menu may appear from the right or bottom side of the button. Its appearance is controlled by the m_bRightArrow member variable.
You can use CBCGPMenuButton class like a regular CButton class. When you're setting up the CBCGPMenuButton object you need to provide it with the popup menu handle and call the SizeToContent() member function, because the button's size should be adjusted to properly show a small arrow. You should process BN_CLICKED or BN_DOUBLECLICKED as usual (unless you didn't call EnablePopupDialog() method). The selected menu item ID can be obtained from the m_nMenuResult member variable.
See also
 
m_bOSMenu
Specifies whether to show the default system menu or BCGControlBar Library menu
 
 
m_bRightArrow
Determines the arrow direction.
 
 
m_bStayPressed
Determines the menu button state when after the user has released the button.
 
 
m_hMenu
A handle to Windows menu.
 
 
m_nMenuResult
A menu-item identifier.
 
 
m_bDrawFocus
If nonzero, a focus rectangle is drawn around the button's text and image when the button receives focus
 
 
m_bHighlightChecked
Specifies whether to highlight buttons with the style BS_CHECKBOX or not when the mouse is hovered over.
 
 
m_bOnGlass
Specifies whether a control is located on the "glass" (DWM) area of the parent window.
 
 
m_bRighImage
If nonzero, the button's image is shown from the right side
 
 
m_bTopImage
If nonzero, the button's image is shown on top
 
 
m_bTransparent
If non-zero, the button is transparent.
 
 
m_bVisualManagerStyle
Specifies whether a control has a Visual Manager style look.
 
 
m_nAlignStyle
Specifies alignment of the button's text label.
 
 
m_nFlatStyle
Specifies the button's flat style.
 
 
EnableWinXPTheme
Allows to draw button borders using the current Windows theme.
 
 
m_bDontSetCapture
If this global flag is TRUE, SetCapture/ReleaseCapture methods are never called for all CBCGPButton controls.
 
 
OnDrawBorder
Called by the framework when the button's border should be redrawn
 
 
OnDrawFocusRect
Called when a button has focus to redraw the focus rectangle
 
 
OnDrawImage
Called when a button's image should be redrawn.
 
 
OnDrawText
Called when a button's text should be redrawn
 
 
OnFillBackground
Called by the framework when the button's background should be filled
 
 
SelectFont
Called when a new font is about to be selected