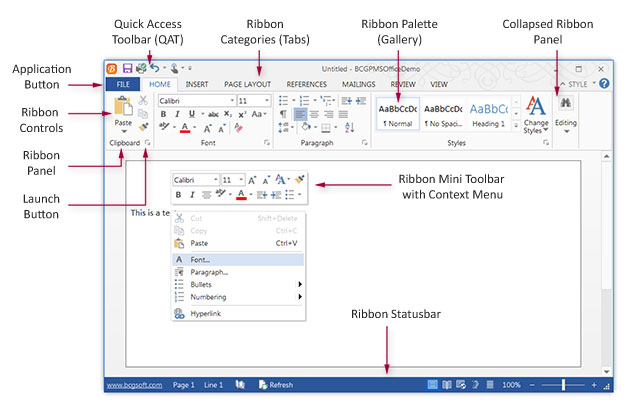 The CBCGPRibbonBar class implements functionality of "Ribbon" control.
"Ribbon" control was introduced by Microsoft in Office 2007. It's not just a new control - it's a new user interface ideology. Ribbon control replaces traditional toolbars and menus with tabbed groups (Categories). Each group is logically split into Panels and each panel may contain various controls and command buttons. In addition, Ribbon control provides smart layout maximally utilizing the available space. For example, if a Panel has been stretched and has no place to display all available controls, it becomes a menu button which can display sub-items on a popup menu.
Ribbon control behaves as a "static" (non-floating) control bar and can be docked at the top of frame. In fact, the same Ribbon Bar can be used to implement Office 2007-style status bar or any other control that hosts Ribbon Categories (CBCGPRibbonCategory). A Ribbon Category is a logical entity. The visual representation of Category is a Ribbon Tab (CBCGPRibbonTab). A Category contains (and the Tab displays) a group of Ribbon Panels. Each Ribbon Panel contains one or more Ribbon Elements (CBCGPBaseRibbonElement - derived objects).
How to add ribbon control to your application: