The CBCGPPropList object implements the functionality of a list control that displays the hierarchical list of editable properties. Each property can represent various types and contain sub-items. It's possible to enable a resizable description area at the bottom of a property list control to display a description for selected properties.
Property List control supports "commands" - an additional area at the bottom of Property List with "links". The list of commands can be content dependent - just call SetCommands() and ClearCommands() to display the commands or remove them.
Below are two pictures of the property list control working in hierarchical and alphabetic modes: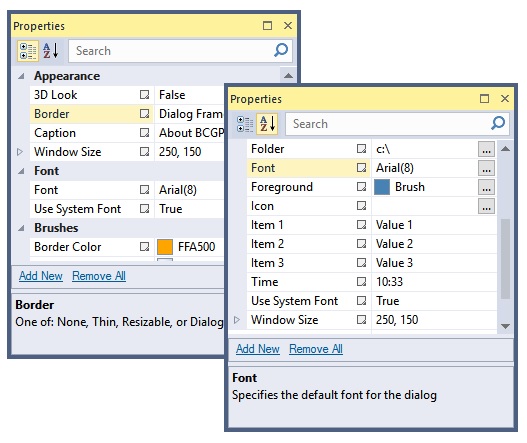 To use a property list control in the application just construct a CBCGPPropList object and call CBCGPPropList::Create. Then, you can begin adding items using CBCGPPropList::AddProperty. All properties have the same base class CBCGPProp.
The library has several "predefined" property types:
In addition, the Property List control supports context menu, built-in toolbar with predefined buttons and built-in search box.
You need to process BCGM_PROPERTY_MENU_ITEM_SELECTED registered message to handle custom context menu commands.
Inherits CBCGPWnd, and CBCGPCtrlPlaceHolderHelper.