Objects of the class CBCGPDropDownToolBar are a special type of control bars that have an ability to drop down or pop up when a user holds a "top-level" toolbar button for a while. The CBCGPDropDownToolBar objects behave exactly as popup menus but have the look & feel of toolbars. They can not be customized, docked or have a tear-off state.
The following is a picture of CBCGPDropDownToolBar object when it has dropped down: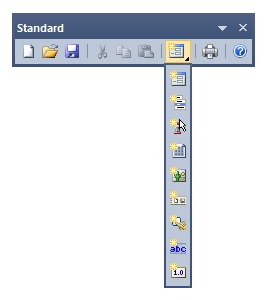 You can create a CBCGPDropDownToolBar object in the same way as you create the regular toolbar (see CBCGPToolBar). The only difference is that you have to reserve a dummy button in the parent toolbar resource. The dummy button eventually should be replaced by a CBCGPDropDownToolbarButton object (call CBCGPToolBar::ReplaceButton).