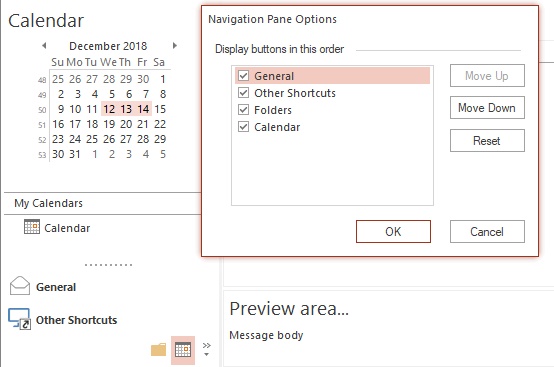 The CBCGPOutlookBar class is intended to provide docking support for CBCGPOutlookWnd objects.
To use the CBCGPOutlookBar control in application you have to perform the following steps:
Embed a CBCGPOutlookBar object into main frame window class.
Use the SetMode2003() function in order to enable Microsoft Office 2003-like mode.
When processing the WM_CREATE message in the main frame, call the Create() member function.
Obtain a pointer to the underlined CBCGPOutlookWnd using CBCGPBaseTabbedBar::GetUnderlinedWindow.
For Mode2003 only. Use CBCGPOutlookWnd::SetToolbarImageList in order to assign images to be displayed on the bottom toolbar. Image index should correspond to a tab index for which the image is intended.
Create CBCGPOutlookBarPane objects for each page containing outlook buttons.
Call CBCGPOutlookWnd::AddTab to add the pages. Set bDetachable to FALSE if you want to keep a page non-detachable. You can use CBCGPOutlookWnd::AddControl in order to quickly add detachable pages.
If you want to put a CWnd - derived control on an outlook page, just create the required control and call CBCGPOutlookWnd::AddTab for it.
If you want to allow the user to add new pages or delete dynamically added pages at runtime use CreateCustomPage() / RemoveCustomPage() respectively.
Note. You should use the unique control IDs for each CBCGPOutlookBarPane object as well as for CWnd - derived objects.