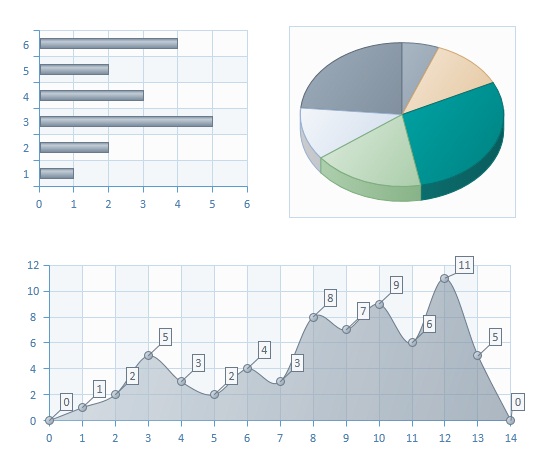 The CBCGPChartVisualObject class implements the functionality of Chart. It's derived from CBCGPBaseVisualObject and inherits all abilities of visual objects, like the ability to reside in container (so you can combine gauges and charts) and others.
The CBCGPChartVisualObject class it the key class for charting. It manages series, axes, legend and other chart elements.
The following is the list of chart elements you can manipulate and customize:
Chart Area. All other elements are located within Chart Area. It can be formatted using BCGPChartFormatArea options (use GetChartAreaFormat().
Title. The chart title is usually located at the top of Chart Area. It can be formatted using BCGPChartFormatLabel options (use GetTitleLabelFormat()). A title can overlap the Plot Area.
Legend. A Legend displays a list of series names or data points along with their keys. A Legend may be aligned at the left, top, right, bottom and top-right positions of the Chart Area. It may also overlap the Plot Area. Use GetLegendFormat() to obtain a reference to legend formatting options.
Plot Area. The Plot Area contains Chart Axes and Diagram Area. Use GetPlotAreaFormat() to obtain a reference to plot formatting options.
Chart Axes. A base axis is represented by CBCGPChartAxis class. An axis has the following formatable elements:

Axis line
Major tick marks
Minor tick marks
Labels
Major grid lines
Minor grid lines
Major interval interlacing

Diagram Area. The Diagram Area displays Series.
Series. A Series (the base series is represented by CBCGPChartSeries class) is built up from a list of Data Points. Appearance of each Data Point can be set up individually, or can inherit its parent Series settings.
Data Point. A data point is a simplest entity that can be shown on Diagram. Its appearance depends on Diagram type (later - Chart Type). For example, for the Funnel chart a data point is displayed as a funnel segment, but for the Bar chart - as a rectangle. Data Points are represented by CBCGPChartDataPoint class. A Data Point can be marked on the Diagram by Data Marker and annotated by Data Label.
A position of a Data Point on Diagram depends on its Chart Data. The Chart Data is represented by CBCGPChartData class, which contains an array of simplest chart entities - Chart Values (CBCGPChartValue).
Each Chart Value is located within Chart Data at Component Index. Components are actually X,Y and Z values that can make up a Data Point for a specific Chart Type. Some Chart Types (like range or bubble) require more than one Y component, and they are encoded as Y1, Y2 etc.
A Data Marker is always placed at a screen position of Chart Data (this position can be customized in a derived class) and can be connected with Data Label by (callout) line.
Each Series has a built in "implementation" - a series specific class that is responsible for drawing of actual diagram shapes and does some other series specific work, like calculating data label positions on the screen. The "implementation" is represented by CBCGPBaseChartImpl class.
Take the following steps to create a Chart in an application (view-based chart).
For advanced techniques please take a look at BCGPChartExample.
The Chart and Gauges work with CBCGPGraphicsManager layer, which implements transparent D2D and GDI back ends.
The list of classes used for charting:
CBCGPLineChartImpl,
CBCGPBarChartImpl,
CBCGPBubbleChartImpl,
CBCGPPieChartImpl,
CBCGPPyramidChartImpl,
CBCGPFunnelChartImpl,
CBCGPStockChartImpl,
CBCGPLongDataChartImpl,
CBCGPPolarChartImpl,
and Windows Control helpers:
Formatting structures:
Color theme:
Chart Layout: